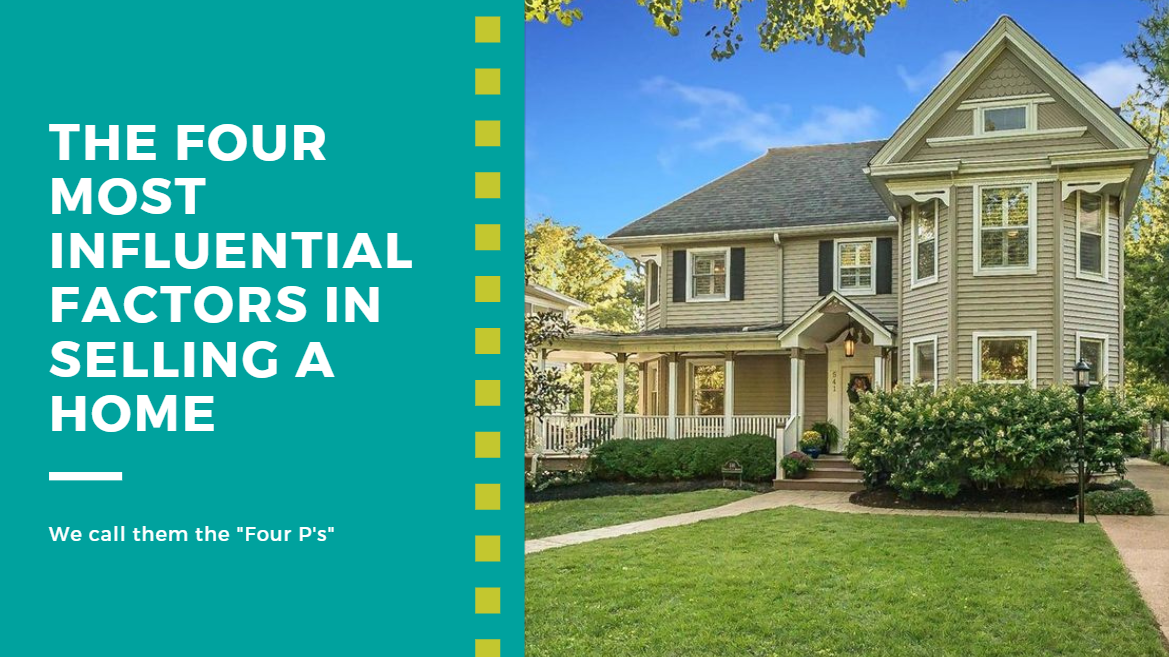 A perfect real estate listing is far and few between, but as a seller you are in control of how a buyer perceives your home. As stagers, there are four main influencers we consider when advising our clients in the best way to present their listing, we call them the "four p's". The good news is you have full control over the last two: promotion and presentation. All four factors will determine how fast your listing sells, and how much money you will receive.
Place
For the majority of buyers, a home's location is the most vital element. We're not just talking about the city, school district, or proximity to their work, but even down to the property's location within a neighborhood, or it's proximity to other houses. Some people are willing to compromise on certain aspects of a home's location- maybe it's on the corner lot in a new development and it backs up to a noisy road, but if it's close to work and their desired school, a buyer may compromise. If you are selling your home, there's obviously nothing you can do to change the location, but be aware that it will greatly effect the price for better or worse. In the case where the location is a downside, the other three p's will be even more important to get right.
Price
Although price is usually based on comps, there are other key factors that will effect the overall price of a listing. Foreclosures in the area will drive prices down, as will an over-abundance of inventory. In a "seller's market" the inventory is low, which causes housing prices to go up (it's simple supply and demand). When you price your home right and take the necessary steps to effectively market it, you may even instigate a bidding war. Most people will want to reduce the price within two weeks or a month on the market, but before you consider doing so, you may want to re-organize your marketing strategy. Sometimes a price reduction isn't necessary if you simply correct the other two important factors in selling a home: Promotion and Presentation.
Promotion
Believe it or not, many sellers won't take effective steps to market their property or make necessary improvements. Make sure your realtor is giving you a list of things to do in order to make your property more appealing to buyers. Take a look at Zillow, you'll find countless listings that have poor photographs, cluttered rooms, or obvious cosmetic problems; we've even seen real estate photos taken by the seller with a camera phone. In today's internet-savvy market, it's vital to promote your online listing properly by having good photography and excellent presentation. If your photos don't stand out among the competition, you won't get the foot-traffic you're looking for.
Presentation
This is perhaps the most often overlooked aspect of effectively marketing a real estate listing. As a homeowner, you may be comfortable with outdated finishings, cluttered furnishings, or dark spaces, but to a potential buyer, your home needs to be inviting, warm, bright, and appealing. Once a potential buyer is in the door, a home must sell itself. While studies show that the main reason homes don't sell is due to the price, the second most common reason is the presentation. In order for a home to be presented in the best possible way, it is essential to stage it.
According to the National Association of Realtors, 29% of sellers' agents reported an increase of 1% – 5% of the dollar value offered by buyers, in comparison to similar homes. 21% of respondents stated that staging a home increased the dollar value of the home between 6% and 10%. In addition to receiving more value for a home, 39% of sellers' agents stated that staging a home greatly decreases the amount of time the home is on the market.
At INhance IT! we are firm believers that staging a home is the most important step in selling your home. Why would you leave money on the table or risk your house sitting on the market? Make sure you are presenting and promoting your property in the best possible way to avoid the dreaded price reduction. Get in touch with one of our expert stagers to discuss how we can transform your listing.
Search
Recent Articles
Archive
Categories